Created:

Mon 7th Jan 2013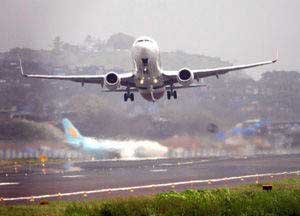 81 foreign airlines operating 1,734 flights per week in India
NEW DELHI: Foreign airlines are operating over 1,700 flights per week to and from 25 Indian airports, Civil Aviation Minister Ajit Singh said today.
In reply to a question in Lok Sabha, Singh said 81 foreign airlines were operating a total of 1,734 scheduled services per week.
"Of these 81, 72 are passenger, while nine are cargo flights and of the 1,734 flights, 1,655 are passenger and 79 are cargo. They are currently operating to and from 25 airports in India," Singh said.
In reply to a separate question, Minister of State for Civil Aviation K C Venugopal said that since 2009 domestic carriers have witnessed an increase in the number of passengers, expect in 2012 when the growth was negative.
He said in 2009, domestic airlines carried 43.8 million passengers, which increased by 18.7 per cent in 2010 when they carried 52 million passengers.
In 2011, the number of passengers travelling by air increased by 16.6 per cent to 60.7 million but in 2012, it dipped by 3.04 per cent to 58.8 million.
"This year, airlines witnessed an increase of 0.31 per cent between January and June. The airlines have carried 31.01 million passengers during this period," the Minister said.
"Airports Authority of India has earned Rs 99,378.47 lakh in 2009-10, Rs 1,15,614.04 lakh in 2010-11 and Rs 1,43,509.24 lakh in 2011-12," Venugopal said.