Created:

Mon 7th Jan 2013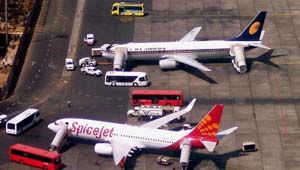 CCTV cameras have helped curb cargo thefts at airport, says CISF
Incidents of theft at Chhatrapati Shivaji International Airport's cargo terminal have reduced drastically following the installation of over 650 CCTV cameras, said the Central Industrial Security Force (CISF).
The agency also uses their personnel as undercover loaders to regularly keep a watch.
The CISF, given charge of the securing the cargo terminal in 2011, says the last theft took place in April. According to Mumbai Police, no more than 10 thefts have been reported in the past year, most of them inside jobs.
The Airports Authority of India (AAI) installed cameras after a series of high profile thefts between 2007 and 2009. In May 2009, an airport security personnel was killed while attempting to stop four armed men stealing gold and silver coins bound for Pidilite Industries in Hyderabad.
The CISF has access control to the terminal and also guards the perimeter. Officers say the CCTV cameras help keep an eye on airport staff as it is scanners, loaders and forklift operators who are most commonly involved in cases of cargo theft and are part of active gangs at the terminal.
"Scanners are adept at identifying what an incoming consignment contains and tip-off their accomplices. While we cannot say how many gangs are currently active inside the terminal, the cameras have kept them quiet for a while now," the officer said.
In April, the CISF chanced upon a gang of three men while probing the theft of medicine for export. "The medicine, a very fine powder packed in large plastic boxes, was bound for Indonesia and Australia. Upon reaching its destination, the buyers found the boxes nearly empty. While keeping a watch for suspects, we saw an abandoned bag near the exit of the cargo terminal. We waited for someone to approach and nabbed him. It turned out to be a sweeper who stole computer parts by concealing them in a pile of garbage," said an officer.