Created:

Mon 7th Jan 2013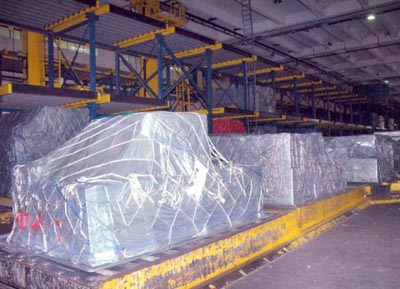 Mumbai airport plans new cargo complex
Mumbai's Chhatrapati Shivaji International Airport (CSIA) is all set to enhance its cargo facilities with a separate cargo complex that will have a projected capacity to handle one million tones of cargo shipments per annum. The development of the proposed cargo village is still in the planning stage as the Mumbai International Airport Limited (MIAL) is developing an altogether separate masterplan for the same.
The Mumbai Airport, at present, is the country's leading airport in terms of handling cargo shipments and handled 525,335 tonnes of cargo last financial year. However, according to a MIAL official, the reason behind the proposed cargo village is growing competition arising from the newer greenfield airports of Hyderabad and Bangalore and the projection of Nagpur's airport as India's cargo hub.
"The new airports have incorporated expansive plans to handle cargo shipments. They could do so because they do not have any land constraints. And that's why we have to enhance our facilities," said the official. MIAL, however, is still do decide on the location of the proposed complex and is considering various options. "The plans are still on the drawing board and we are looking at various options in terms of location. It's still on decided where we are going to locate it," said the spokesperson from MIAL.
The new cargo complex will have better temperature controlled facilities to store perishable goods like pharmaceutical and organic products and the area of the facilities are still to be decided. Although a timeline is yet to be finalised for the project, MIAL is looking towards a finishing it by 2013. A MIAL official added that it was still premature to make separate cargo hubs in India as 60 per cent of all cargo shipments are transported in the bellies of passenger planes.