Created:

Mon 7th Jan 2013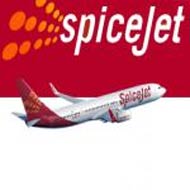 SpiceJet plans global expansion
Aiming to expand its international network gradually, no-frills carrier SpiceJet today said it would add two more global destinations, Dammam and Kuala Lumpur, by March next year along with increasing frequencies on certain foreign routes.

"We are going to start operations to Dammam (Saudi Arabia) and Kuala Lumpur (Malaysia) within this financial year. We are currently working on the financial details and also trying to increase frequencies to certain existing destinations," SpiceJet's Senior Vice President (Commercial) V Raja said here today.

Asked whether SpiceJet was in talks with any foreign carrier for investment in its equity, he said these were "only reports", but added that "if there is a good proposal which is economically and commercially good for us, it will be wrong not to look at it".
With this planned expansion, SpiceJet would raise its foreign flights per day from 28 to about 42 within this financial year, Raja and other senior airline officials said.

Raja was talking to reporters after the airline added the Thai capital, Bangkok, as its tenth foreign destination, launching two flights simultaneously from Bangalore and Pune to the Suvarnabhumi International Airport here.

Congratulating the Indian carrier for starting the services, Indian Ambassador to Thailand Anil Wadhwa said the growing number of flights from India would further cement the historic bilateral ties and improve regional connectivity.

There were currently 156 flights per week between the two countries, with leisure and business travel growing at a phenomenal pace.

"Last year over 1.15 million Indians visited Thailand, while 88,000 Thai visitors went to India, mainly to Buddhist pilgrimage sites," the envoy said.

Besides being a popular destination for shooting of films, Thailand have also emerged as a favourite wedding destination with business estimated at around 30-40 million Baht (USD 32 million) a year, growing at a rate of 15-20 per cent rate.

"These is certainly a positive trend for airlines operating from India," Wadhwa said, adding that ten Indian cities are now connected with Bangkok.

Referring to road connectivity, the Indian ambassador said initiatives like the India-Myanmar-Thailand trilateral highway under the Bay of Bengal Initiative for Multi-Sectoral Technical and Economic Cooperation (BIMSTEC) framework is under construction to connect the two nations. India has invested USD 258 million on the 1,632 km long highway and is constructing 71 bridges on the entire length.